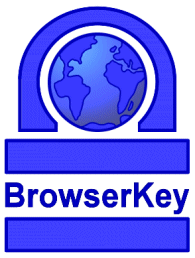 TM

Secure your site. Period. TM

BrowserKey secure authentication technology is ideally suited to be used by web site designers/developers/owners, and web server administrators having Internet or Intranet web pages and/or web sites requiring total control over access to web pages, web servers and/or web services. It excels as a strong security layer protecting subscription-type web sites, sensitive web sites, and Intranets that allow remote access by telecommuters and travelers. Let's face it, sharable usernames and passwords often don't cut-it. Read on.

Home | Overview | Purchase | Demo | FAQ

For more information on this revolutionary security/authentication technology please contact us.

Copyright 2000-2023 BrowserKey, Inc. All rights reserved. Patent Pending. The BrowserKey name and logo are registered trademarks of BrowserKey, Inc.